Recognition for our own people and for others
This does not only relate to our own employees' health, but also to the health of those around us.  Both near and far. This is reflected in our ergonomic workstations and the serious safety measures we have in place on the construction site, but also in how we treat the area surrounding the construction site with respect. For new development projects we always consider the spatial quality and quality of life in the surrounding neighbourhoods. This is how we directly contribute to a sustainable future. And what about the people further away? We support them indirectly by choosing for environmental-friendly materials.
Sustainable construction & working methods
At Pleijsier Bouw we not only build sustainably, our work practices are also sustainable.  And that shows – throughout the project. At our construction sites we use sustainable materials and closely monitor our waste production. We separate and remove any waste there is.  Not only that, we also ensure that the working processes on our construction sites are clean, tidy and safe. That is not only good for our employees, but also for our suppliers and local residents. We take sustainable construction a step further. From beginning to end we look for sustainable solutions; during construction, development and whilst managing a building. Sometimes these are completely new solutions, sometimes solutions that we have applied before. This is reflected in our use of environmental-friendly materials, water and energy saving systems, sustainable energy sources and new methods that can help make your building even more sustainable.
Certificates are substantial proof
Pleijsier Bouw has been awarded a number of certificates that emphasise the power of their CSR policy. For example, certificates such as: accredited training company, conscious constructions, VCA, ISO 9001, ISO 14001 and the BREEAM label. For more information on this subject, please go to the page `certificates'.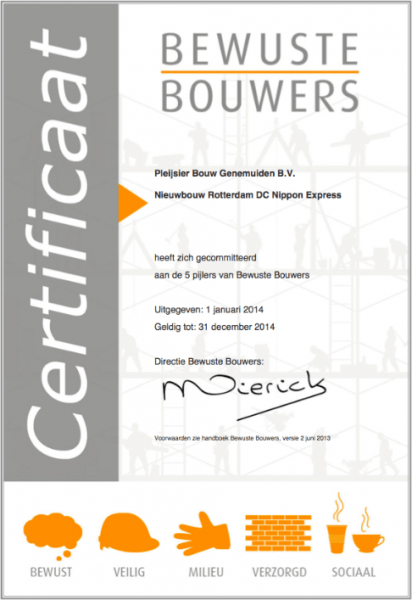 Consistently focused on improvement
There is a wide basis for support among the employees to work in an environmental-friendly way. That's because at Pleijsier Bouw we invest a lot in awareness about sustainability. We are convinced that awareness is indispensable in order to have a successful CSR policy in place.  To make sure that we can maintain our policy in the future, we also constantly monitor our performance. This allows us to improve any shortcomings there might be early on.  The result? A CSR policy that works!